Procedural complications of inferior vena cava filter retrieval, an illustrated review
CVIR Endovascular volume 3, Article number: 23 (2020)
9259 Accesses

21 Citations

7 Altmetric
Abstract
Annually, approximately 65,000 inferior vena cava (IVC) filters are placed in the United States (Ahmed et al., J Am Coll Radiol 15:1553–1557, 2018). Approximately 35% of filters are eventually retrieved (Angel et al., J Vasc Interv Radiol 22: 1522–1530 e1523, 2011). Complications during filter retrieval depend heavily on technique and filter position. In this paper, we review risk factors and incidence of complications during IVC filter removal. We also discuss ways these complications could be avoided and the appropriate management if they occur.
Background
Inferior vena cava filters are employed in a variety of clinical scenarios (Table 1) (DeYoung and Minocha 2016). Complications of in situ filters include cardiac migration, leg fracture with or without embolization, caval thrombosis and symptomatic caval penetration by filter legs (Grewal et al. 2016). Because of the increased recognition of in situ filter complications and advances in retrieval techniques, filter retrieval rates have increased over the years (Angel et al. 2011; Ahmed et al. 2018) To avoid complications of in situ filters, removal is indicated when the filter is no longer needed (Table 2). Maintenance of patients on therapeutic anticoagulation at the time of retrieval is recommended (Kaufman et al. 2006) and is not associated with increased risk of retrieval complications (Schmelzer et al. 2008).
The reported procedural complication rates of filter retrieval range from 0% (Tashbayev et al. 2016) to 20% (Brahmandam et al. 2019). Complication rates depend on multiple factors including whether advanced techniques were used and filter position (Table 3). In this paper we examine risk factors for complications from filter retrieval, discuss approaches to avoid such complications and provide possible treatment approaches for when complications do occur.
Main text
Factors predisposing to complications
Procedure technique
Advanced retrieval techniques are defined as anything beyond simple snare of the filter hook with subsequent over-sheathing. Advanced techniques are used in cases when snaring the hook is not possible (e.g. when the filter hook is embedded in the caval wall) or when the filter's legs have become embedded. Advanced techniques include endobronchial forceps assisted retrieval (Stavropoulos et al. 2015), the sling technique (Rubenstein et al. 2007), endovascular laser sheath removal (Kuo et al. 2017) and centering techniques using balloons or flossing techniques (Lynch 2009). These advanced techniques may be combined. Compared to simple removal, the procedural complication rates are significantly higher when advanced techniques are used; studies have shown a 4-fold increase in overall complications (5% to 20%)(Brahmandam et al. 2019) and a 13x increase in major complications (0.4% to 5.3%) (Al-Hakim et al. 2014). Therefore, when employing advanced techniques, it is recommended to have a semi -compliant tamponade balloon, such as a 32 mm the CODA balloon (Cook Medical Bloomington, IN) as well as appropirately sized bare metal stents and stent grafts immediately available. Even when complication free, advanced techniques are associated with 5.4x-more fluoroscopy time (23.1 vs 4.3 min) and a 3.6x greater radiation exposure (557.2 vs 156.9 mGy) (Ahmed et al. 2020).
Endobronchial forceps
Endobronchial forceps are employed in cases where the hook of the filter is not accessible to snaring, most often because of significant tilt, embedded hook, or a fibrin cap covering the filter hook. In these cases, rigid bronchoscopy forceps dissect the hook of the filter from the caval wall. In the largest series to date (which included 114 patients), the only major complication reported was a symptomatic IVC pseudoaneurysm requiring balloon tamponade and a 2 night hospital admission. The same series also reported 3 minor complications, including two filter leg fractures with embolization to the pulmonary artery, which were sucessfully snared. The other minor complication was an asymptomatic IVC pseudoaneurysm (Stavropoulos et al. 2015). Trauma to the IVC will occur if the operator inadvertently grasps the caval wall (Daye and Walker 2017) with one series showing imaging evidence of contrast extravasation in 8.3% of bronchial forceps filter removals (Lian et al. 2019) (Fig. 1). Traumatic arterio-venous fistula between the renal artery and IVC after foceps filter removal have been reported (DeSai et al. 2019; Ferral 2019) (Fig. 2). Additionally, multiple case reports of leg fractures with embolization have been reported (Knavel et al. 2016; Lee et al. 2018; Poliwoda et al. 2019). Other complications from utilizing the bronchial forceps may arise (Fig. 3).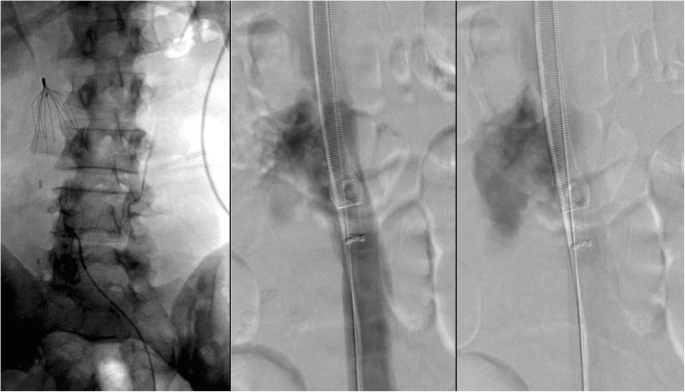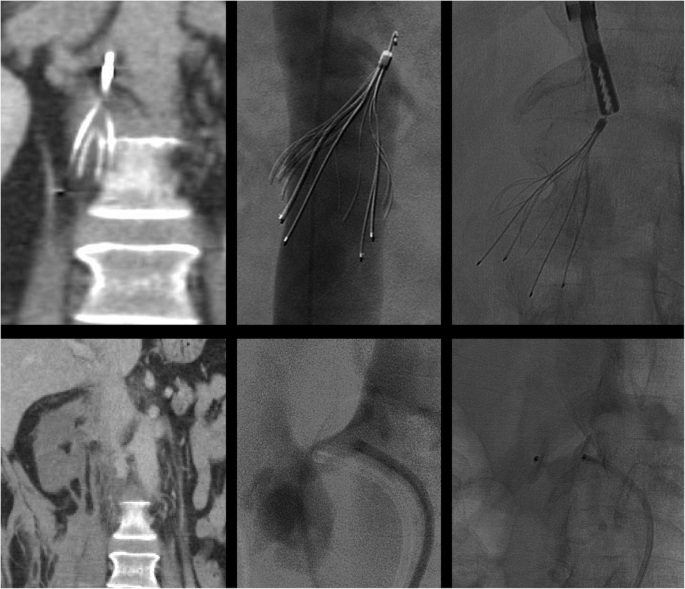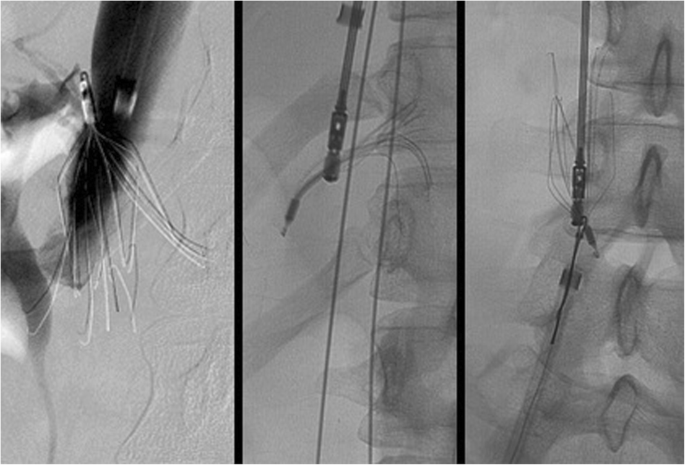 Sling technique
The sling technique (also known as the loop-snare technique) is also used in cases of embedded or angulated hooks. After a reverse-curved catheter placed below the filter, a glide wire is introduced through the legs of the filter, snared and externalized. After confirmation that at least 2 legs have been captured, back tension is applied to both ends of the wire while advancing the sheath over the filter. If the filter is pulled cranially, especially if only one leg has been captured, undesirable re-alignment of the filter can result (Fig. 4). Undesired re-orientation is also known to occur with the sling technique, especially with malleable nitinol filters (Kuyumcu and Walker 2016). A modification of this technique can be used to realign the filter into an upright position which is then followed by loop snaring of the hook. When this modification was employed in a study of 20 consecutive patients no complications occurred (Su et al. 2019), however other series have reported an almost 20% overall complication rate (Brahmandam et al. 2019). Filter leg fracture (Fig. 5) and IVC dissection with contrast extravasation (Fig. 6) have all been desribed as potential complications of this filter removal technique (Brahmandam et al. 2019).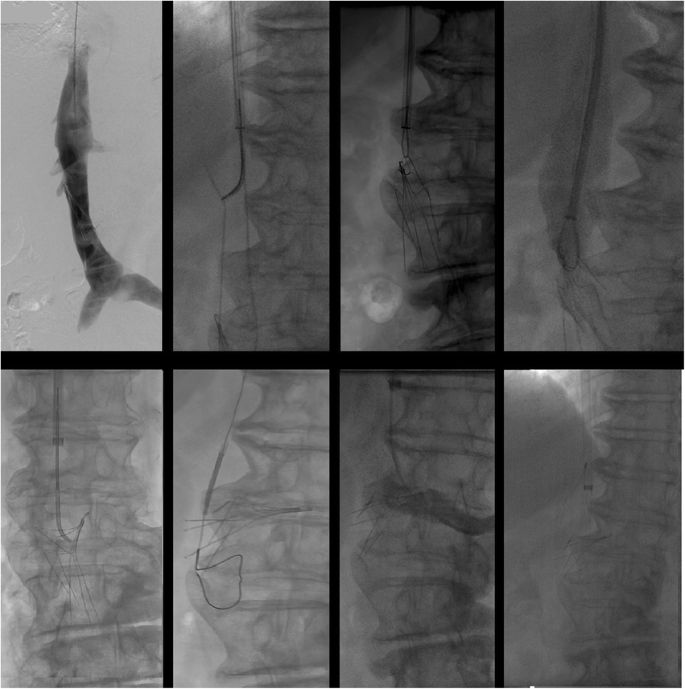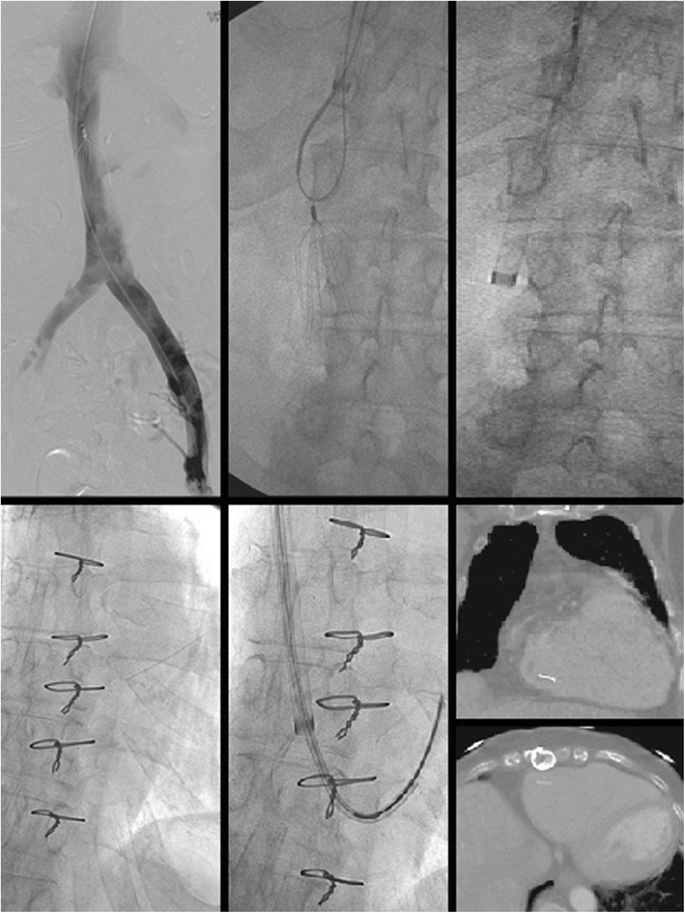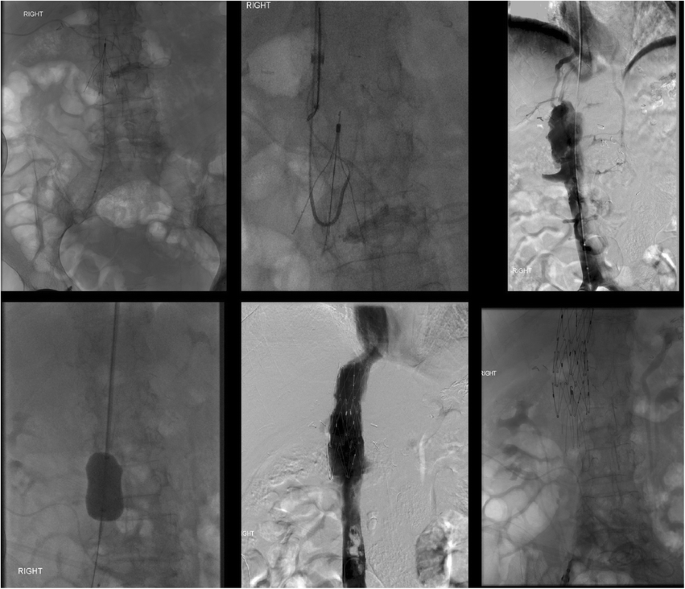 Excimer laser
The Excimer laser was has been used for removal of filters whose legs have been incoperated into the IVC and cannot be removed by conventional means. A 12, 14 or 16Fr laser sheath is advanced through a 16 or 18Fr sheath and over the filter. Short periods of controlled photothermal energy is used to ablate adhesive tissue around embedded parts of the filter. In one study of 100 patients, 7% of patients undergoing filter removal using the Excimer laser had imaging evidence of caval injury; two of these necessitated balloon tamponade of the IVC followed by stent-graft placement. Other caval injuries included venous pseudoanurysms (4%) and contrast extravasation (3%) (Kuo et al. 2013). In a subsequent paper by the same group which, included 251 patients, there was a lower rate of major complications (1.6%) (Kuo et al. 2017) Here we show a not yet described cases of caval-enteric fistula with septic caval thrombophlebitis after laser sheath removal of a filter with leg penetration. Attribution of this complication is likely a combination of both the leg penetration into bowel as well as vessel injury from laser removal (Fig. 7).
Filter position
Certain patient and filter related factors can make filter retrieval more difficult and potentially more dangerous (Table 4). These include filters with significant tilt, an embedded hook, significant penetration and prolonged dwell time. Consideration of obtaining a pre-retrieval CT is recommended in patients who have had their filters in place for > 180 days to help with procedural planning and informed discussion regarding risks of filter removal (Dinglasan et al. 2013); as pre-procedure CT was found to be highly predictive of difficult retrieval. An embedded tip was the most predictive of difficult retrieval followed by > 15° filter angulation and finally by grade 2 (struts outside the IVC lumen) and grade 3 (struts inserting into adjacent organ or retroperitoneal structure) leg penetration.
Filter angulation
Filter angulation is highly predictive of difficult removal and need for advanced retrieval techniques (Clements et al. 2019). Filters tilted between 5 and 15° have and estimated 2.4x chance of a difficult retrieval. Filters tilted > 15° have between 7.9 and 33 times greater risk of being difficult to retrieve (Clements et al. 2019; Dinglasan et al. 2013). Filters, such as the Bard Denali (Bard Peripheral Vascular, Inc., Tempe, AZ), with lower rates of tilt (Bos et al. 2016) have been associated with shorter procedures, reduced fluoroscopy times and less need for advanced techniques (Ramaswamy et al. 2018). The Argon Option Elite IVC filter, on the other hand, has been shown to require more advanced retrieval techniques, higher failure rates and longer fluoroscopy times, possibly related to greater filter tilt (Neill et al. 2017).
Embedded tip
Removal of a tip-embedded IVC filter is a high-risk procedure; the presence of an embedded tip is associated with an odds ratio of 129 for a complex retrieval (Dinglasan et al. 2013). A filter whose tip contacts the caval wall is prone to thrombus, neointimal hyperplasia, smooth muscle and dense fibrosis around the tip (Kuo et al. 2012; Singer and Wang 2011). Filter tips may also penetrate beyond the wall of the cava (Fig. 8). Removal of tip embedded filters is considered both difficult, because the hook is inaccessible to snaring and high risk because of need for "aggressive force" and use of advanced technique with potential damage to the caval wall during dissection of the embedded tip from the wall (Stavropoulos et al. 2008) (Fig. 9).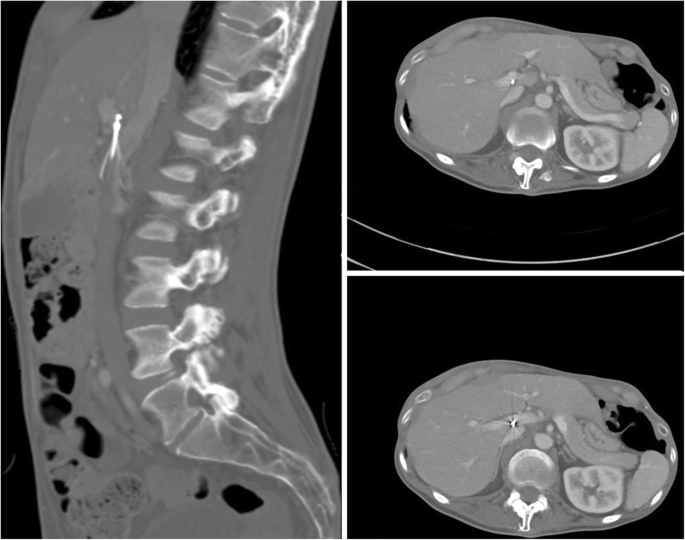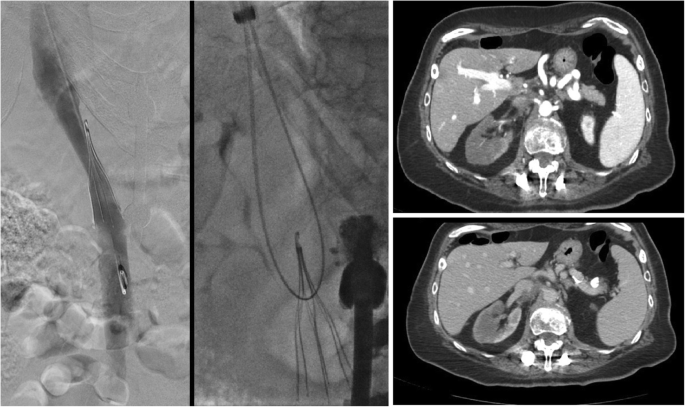 Leg penetration
Leg penetration > 3 mm is present in 19% of filters but is rarely symptomatic (Grassi et al. 2001; Jia et al. 2015). Some filters have a high rate of leg penetration, for example leg penetration is reported in 39% of Cook Celect filters (Cook, Bloomington, IN) (Zhou et al. 2014). Even if asymptomatic, penetration may increase the rate of retrieval complications. These complications include traumatic injury to the wall of the cava including pseudoaneurysm (Stavropoulos et al. 2015), dissection and intramural hematoma (Al-Hakim et al. 2014). Additionally, caval thrombosis can occur; in a case series of removal of adherent, filters adherent to the wall of the IVC showed a 31% rate of partial caval thrombosis (Fig. 10) (Kuo et al. 2009). Filter leg fractures and embolization can also occur given the increased forces and stresses placed on the filter during removal (Fig. 11). One case report even described embolization of an IVC filter leg down the aorta and into the profunda femoris during retrieval of embedded leg (Knavel et al. 2016). Filter removal with arterial penetration of components using bronchial forceps was shown to be safe in a series of 42 patients (Duncan et al. 2018), however published case reports have also described arteriovenous fistulas after removal (DeSai et al. 2019; Ferral 2019) (see Fig. 2).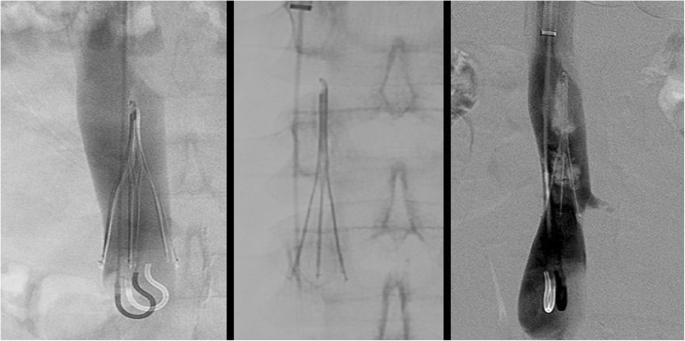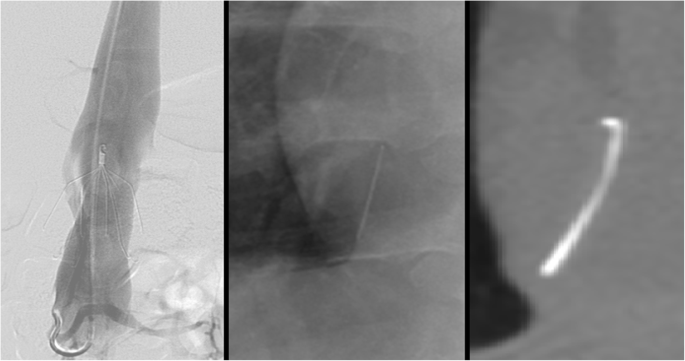 Prolonged dwell time
Prolonged dwell time, variably defined in the literature from> 90 days or > 180 days, has been associated with higher rates of failure of standard retrieval technique (Geisbusch et al. 2012). Advanced techniques are needed in just over 40% of cases when filters had been in place for over 210 days (Desai et al. 2017). Procedural complications, however, have not been showed to be independently associated with prolonged dwell time; one study that included 52 patients with filters in place for > 6 months showed no increased rates of complications were seen compared to the cohort of patients whose filters were in place for < 6 months (Desai et al. 2015).
Conclusion
While filter retrieval is generally considered a simple procedure, difficult filter retrievals can be both technically challenging and potentially morbid. Knowing what proceudral techniques and filter/patient related factors are associated with higher rates of complications will help proceduralists anticipate potential complications. Attribution of procedural complications to the use of advanced techniques versus suboptimal filter position is not feasible as advanced techniques are used exclusively for tilted or embedded filters. When removing a "difficult" filter and employing advanced techniques, complications should be anticipated and tamponade balloons as well as appropriate stents/stent-grafts should be immediately available.
Availability of data and materials
As this is a review paper and case series, no study data is available.
Abbreviations
DVT:

Deep venous thrombosis

HCT:

Hematocrit

IVC:

Inferior vena cava

PE:

Pulmonary embolism

VTE:

Venous thromboembolism
Acknowledgements
No specific or separate acknowledgments are made.
Funding
No funding was obtained for the creation of this manuscript.
Ethics declarations
Ethics approval and consent to participate
Institutional review board (IRB) approval was not required for this paper.
Consent for publication
No specific consent of patients was required for manuscript creation and submission.
Competing interests
The authors declare that they have no competing interests.
Additional information
Publisher's Note
Springer Nature remains neutral with regard to jurisdictional claims in published maps and institutional affiliations.
Rights and permissions
Open Access This article is licensed under a Creative Commons Attribution 4.0 International License, which permits use, sharing, adaptation, distribution and reproduction in any medium or format, as long as you give appropriate credit to the original author(s) and the source, provide a link to the Creative Commons licence, and indicate if changes were made. The images or other third party material in this article are included in the article's Creative Commons licence, unless indicated otherwise in a credit line to the material. If material is not included in the article's Creative Commons licence and your intended use is not permitted by statutory regulation or exceeds the permitted use, you will need to obtain permission directly from the copyright holder. To view a copy of this licence, visit http://creativecommons.org/licenses/by/4.0/.
About this article
Cite this article
Quencer, K.B., Smith, T.A., Deipolyi, A. et al. Procedural complications of inferior vena cava filter retrieval, an illustrated review. CVIR Endovasc 3, 23 (2020). https://doi.org/10.1186/s42155-020-00113-6
Received:

Accepted:

Published:

DOI: https://doi.org/10.1186/s42155-020-00113-6
Keywords
IVC filter removal

Bronchial forceps

Sling technique

IVC filter leg penetration

Tilted IVC filter